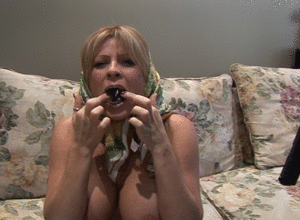 10:22 video
This is a Girl Next Door Bondage Classice. It features Cleo Nicole. Like all other GNDB Classics, the video was shot before 2012 with a Mini DV Camera. These videos are added bonus updates:
This is a video I Co-Produced with Cleo, many years ago. When she retired, I took down this video and many others. She has come out of retirement to work with me and asked that I re-post the videos I took down. They will be re-mastered in a much higher quality than they were in the past.
In this video, a man has made Cleo strip to her girdle and garters. He made her take off her panties and stuff them in her mouth to gag her. he then tied her up with several silk scarves and left her struggling bound and gagged with her big tits bouncing about. Later, He covers her entire head and face with scarves.